Sakurai Hajime x CCColectors X AO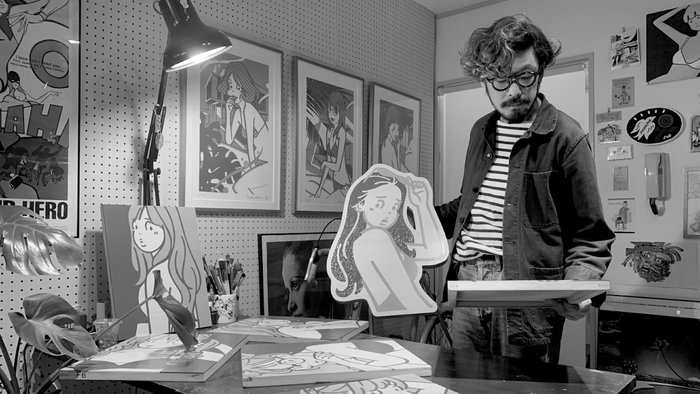 Solo show of Sakurai Hajime opening June 16th
We are happy to announce the solo popup art show of Sakurai Hajime at AO. The work will be on display from 16 until 29th of June. Organized by CCCollectors x AO, we aim to bring great Japanese artists to our city of Amsterdam. We believe AO is the perfect community to connect with art and introduce to a new form of interacting with art and artists. 
About the artist: Sakurai Hajime
Sakurai is based in the city of Osaka, Japan. He started his career as an illustrator about 15 years ago, and in the last 5 years presented his painted works as an artist. He is one of the artists in Japan that has been able to transcend beyond the oceans and present his works internationally.
Where do you find inspiration? 
"Pop culture of the late-20th century and all things created under its influence are the background of my work. In particular, the popular culture of the 60s to 80s, including music, movies, fashion, Japanese manga, and art, will always be a source of inspiration. I draw girls as motifs as I feel they play a leading role in the context of "POP"." 
Can you tell us about the show?
"For this popup at AO, I chose the title "BLEU," and unified the works with the color blue. I have not often used only the color blue in my work, but I think this series of works has a mysteriousness, depth, and power to draw the viewer in. I believe that when displayed in AO, they will be seen as a complete package.

Perhaps it is because I have a background in design that I enjoy not only drawing pictures but also planning how the entire exhibition space will look. When exhibiting, my style is to decide how the works will be arranged at the venue, plan the size and quantity of the works from there, and then decide on the theme of the paintings."
What do you enjoy the most about being an artist? 
"To be able to continue to grow, without ever being finished, but always feeling a sense of possibility. In other words, to be able to always be excited about something."
About CCCollectors
This show is curated by Thonis from CCCollectors. CCCollectors started out of passion for contemporary character art. Being art collectors ourselves we wanted to bring something new to Amsterdam. A new way to experience art. Strongly inspired by the art community in Tokyo, we aim to bring art close to people and the locations they often visit. In those locations we want to tell the story of the artist, and let you fully emerge in their world. The solo popup setup works great for this. Bringing art close to people, and really taking the time to work closely with an artist on curating the whole show.



Join us on the 16th of June from 17:00 until 20:00 for the opening event at AO!